Quick…everyone is coming over to riff and rock out. What are you serving them? When time is of the essence, or you don't feel like heating up the house in the summer with your oven, go for this no-bake cookie recipe that all the rockstars love!
Best No-Bake Cookie Recipe
When you want a sweet and tasty snack any time or you've suddenly got a party on the way over, there's nothing better than this no bake cookies recipe. Just a few simple ingredients and in no time at all, they'll be ready to enjoy.
Easy No-Bake Cookie Recipe
These easy no bake cookies are so simple that anyone can make them. You only need those 7 ingredients and about 20 minutes total time. It's a perfectly sweet solution any time you have the urge for cookies.
What are no bake cookies made of?
Butter – For these, you'll want salted butter.
Granulated sugar – So you'll have sweet cookies.
Unsweetened cocoa powder – This is why you need that sugar, to sweeten this cocoa up.
Milk – Helps pull it all together.
Vanilla extract – Didn't I say this goes in every cookie? A must!
Creamy peanut butter – This will bind your no-bake cookies and add a wonderful flavor. Peanut butter no bake cookies are the best!
Quick oats – The final star ingredient to make no-bake oatmeal cookies.
How do you Make No-Bake Cookies from Scratch
To make these chocolate no bake cookies you'll start by mixing the butter, sugar, cocoa powder, and milk in a medium saucepan over medium heat. Keep stirring until it hits that full boil and let that go for a minute without stirring. Take it off the heat then add the vanilla, peanut butter, and quick oats. Stir it well and then scoop it onto parchment paper-lined baking sheets. Pop those in the fridge to chill or let them rest at room temperature for about 20 to 30 minutes before enjoying.
Expert Tips and Tricks for the Perfect No-Bake Cookies Every Time
Get the mixture boiling. And we mean a full boil going off here. When that happens, then count 60 seconds before taking it off the heat.
Quick oats are best here. In other oatmeal cookie recipes that you bake, you want those old fashioned oats, but for this no-bake oatmeal cookies recipe, these need quick oats for a more tender texture.
You could use crunchy peanut butter. We like this recipe for no bake cookies with creamy peanut butter though for an overall better texture.
Make sure you use salted butter. Most of our recipes for cookies call for unsalted, but this one is better going with the salted butter. If you only have unsalted, you will need to add a pinch of salt to make up for it.
How do you make cookies without an oven?
To make no bake peanut butter cookies and you combine 7 simple ingredients on the stovetop. Once they set, they make for delicious cookies and you don't need an oven to make them.
Can I use regular oats instead of quick oats in no bake cookies?
They will be fine with regular oats, though it will change the texture to something crunchier. A better way if it's all you've got is to put those regular oats in the food processor first before adding it to the no bake cookies recipe.
What is a substitute for oats in no bake cookies?
Puffed brown rice cereal can work as a replacement for quick oats. You will need to cool the sugar mixture for 10 minutes or so before you pour it onto the cereal though or it will have an unpleasant texture.
How do you make no bake cookies not dry?
Pay attention when boiling the mixture. Once it boils, count to 60 seconds, then remove from the heat. If you leave it longer, it will become dried out.
Why are my no bake cookies dry?
Overcooking the mixture will lead to dry no-bake cookies. These are closer to confections than regular cookies so getting the mixture to boil long enough without going too long is important in the outcome.
Why are my no bake cookies dry and crumbly?
Dry and crumbly no-bake cookies are often due to overcooking the mixture on the stovetop. This will destroy their texture.
Why won't my no bake cookies harden?
You likely didn't get it to a full boil. This needs to happen so the sugar binds it together.
What makes no bake cookies harden?
When you drop them on the baking sheets, move them to the fridge. This will ensure they harden up into the right texture.
How do you make no bakes harden?
Put them in the fridge if you're having trouble getting them to harden. This is especially helpful if you live in a humid environment or it's raining outside.
How long does it take for no bake cookies to harden?
It will take about 30 minutes, but if you want them to harden more quickly, put them into the fridge.
Why are my no bake chocolate oatmeal cookies not hardening?
It's possible that you didn't let the mixture achieve that rolling boil first. Next time, let it boil fully and then take it off the heat.
Why do my no bake cookies turn out gooey?
You must boil the mixture for a long enough time. The sugar needs to hit the soft ball stage to hold it all together.
How to Store No-Bake Cookies
No-bake cookies can be kept at room temperature. Just be sure you've got them tucked away in an airtight container or plastic zipper bag.
How Long Will No-Bake Cookies Last?
You can store them for about a week at room temperature. If you want, you can also put them in the fridge for up to 2 weeks.
Should you refrigerate no bake cookies?
You can refrigerate them but it isn't necessary to do so with no-bake cookies.
Can You Freeze No-Bake Cookies?
Of course you can freeze these beauties! They'll be best though if you use them within 3 weeks.
How to Thaw No-Bake Cookies?
Just take them out of the freezer when you want them and let them sit on the counter.
---
Watch How To Make No-Bake Cookies (Video)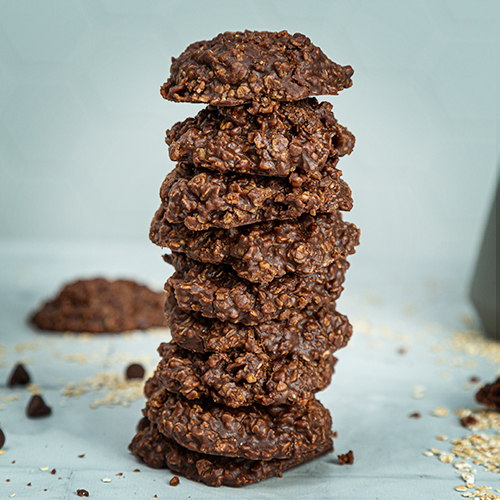 No-Bake Cookie Recipe
This incredible no-bake cookie recipe is so easy and delicious to make that it will rock your socks off! If you've never tasted a no bake cookie then its a oat-filled chocolatey treat that gives you that chocolate fix!
Ingredients
1/2

cup

salted butter

2

cups

granulated sugar

1/3

cup

unsweetened cocoa powder

1/2

cup

milk

2

tsp

vanilla extract

2/3

cup

creamy peanut butter

2 2/3

cup

quick oats
Instructions
Line baking sheets with parchment paper and set aside.

In a medium to large sized saucepan, combine butter, sugar, cocoa powder and milk. Stir over medium heat, continuously stirring until it reaches a full boil. Allow to boil for about a minute without stirring then remove from heat. Add in the vanilla, peanut butter, and quick oats. Stir mixture until well combined then use a cookie scoop to drop mixture onto prepared baking sheets.

Refrigerate baking sheets until fully chilled or allow to rest at room temperature for 20-30 minutes to set before serving.
Nutrition
Calories:
361
kcal
|
Carbohydrates:
50
g
|
Protein:
7
g
|
Fat:
17
g
|
Saturated Fat:
7
g
|
Polyunsaturated Fat:
2
g
|
Monounsaturated Fat:
6
g
|
Trans Fat:
0.3
g
|
Cholesterol:
22
mg
|
Sodium:
128
mg
|
Potassium:
200
mg
|
Fiber:
3
g
|
Sugar:
36
g
|
Vitamin A:
253
IU
|
Calcium:
34
mg
|
Iron:
1
mg
More no-bake cookie recipes: