For the holidays or for any day, this shortbread cookie recipe is a great way to fuel your crew. Rock around the Christmas tree and create some special memories together with just a few ingredients that give you decadent melt-in-your mouth texture that make these cookies so adored.
Best Shortbread Cookie Recipe
Of all the shortbread cookie recipes we've tried, this one is by far the best. Crisp to the bite yet melting away in your mouth, these are the best shortbread cookies you'll find. Once you make them, you'll wonder why you ever bought them. They're as easy to make as they are to eat!
Homemade Shortbread Cookie Ingredients

Butter – Use the sticks of unsalted butter, bringing them to room temperature first.
Powdered sugar – The secret in any recipe for shortbread cookies with that wonderful texture.
Vanilla extract – For that warm and sweet taste.
Flour – Use all-purpose flour to make this cookie dough.
Kosher salt – A perfect way to balance these sweet and rich shortbread cookies.
Easy Shortbread Cookie Recipe
Prepping and baking shortbread cookies is as easy as pie. Actually, it is EASIER than pie! They only require 20 minutes of prep and 20 minutes of baking. A little chill time for the dough is needed too, but the result will be amazing cookies no one will believe you made from scratch!
How do you Make Shortbread Cookies from Scratch
To make this short bread cookie recipe, you'll start by creaming the butter and vanilla together in a large mixing bowl. Then you'll add the powdered sugar and salt. Scrape down the bowl until it's all fully combined, then add the flour. Beat it all together on low until it's completely mixed together. Now you'll shape the dough into a rectangular brick, wrap it in plastic, and put in the fridge for at least an hour. When ready to bake, preheat the oven to 350F and line your baking sheets with parchment paper. Cut the dough into ½-inch thick slices and put them on a cookie sheet. Poke each slice with a skewer to make patterns on top, then bake for 5 minutes. Rotate the baking sheets and bake for another 5 minutes. Then move the cookies to a wire rack for cooling before serving.
Expert Tips for the Perfect Shortbread Cookies Recipe Every Time
Make it in advance to save time. This shortbread cookie dough can keep well in your fridge for a week. You can also freeze it for a month. Be sure it's wrapped well so you can use this trick before the holidays.
Use room temperature butter. It will be much easier to work with for this short bread cookies recipe.
Have fun with those dots. You can put them in any pattern. You could even put them in the format of the KISS logo. Just sayin'!
What are short bread cookies?
Shortbread cookies are made from sugar, butter, and flour though they are unusual from other cookies because they don't contain a leavening agent like baking soda or baking powder.
What are shortbread cookies made of?
Shortbread cookies are made from unsalted butter, vanilla extract, kosher salt, powdered sugar, and all-purpose flour.
What is the secret to making good shortbread?
The secret to making good shortbread is having a good recipe. With this recipe, you'll find it to be easy and delicious when making shortbread cookies.
What is the difference between a butter cookie and a shortbread cookie?
Each of these cookies differs on the amount of sugar that is used and the baking temperature. You should bake butter cookies at a higher temperature. Shortbread cookies also use powdered sugar rather than granulated sugar.
What is the difference between a shortbread cookie and a Scottish shortbread cookie?
Scottish shortbread cookies may use vegetable shortening or a combination of butter and vegetable shortening instead. This will give them a different texture that is crisper and crunchier than a shortbread cookie.
What is the difference between shortbread and shortbread cookies?
The biggest difference is the ratio of the ingredients. Shortbread cookies have a higher ratio of butter compared to the flour and they provide a more crumbly yet tender cookie texture.
Is it better to use powdered sugar or granulated sugar for shortbread cookies?
Powdered sugar is better for shortbread cookies. It is less dense so you get a lighter texture that is crisp on the exterior yet melts in your mouth.
How Long to Bake Shortbread Cookies?
At 350F, you'll want to bake your shortbread cookies for 5 minutes, then rotate the trays and bake for 5 more minutes. You'll see the cookies are changing color slightly at the bottom, a perfect indication they're ready.
How to Store Shortbread Cookies?
Shortbread cookies are best kept at room temperature. You should seal them in an airtight container to keep them fresh. You can also put them in the refrigerator if you prefer.
How Long Do Shortbread Cookies Last?
On the counter, you can expect them to last for a week. If you put them in the fridge, they're best if you eat them within 10 days.
Can You Freeze Shortbread Cookies?
The freezer is a great place for your shortbread cookies since you can make a bunch of batches in advance, wrap them, and freeze them for up to 3 months. This will save you time ahead of gatherings.
How to Thaw Shortbread Cookies?
All you need to do is let them come to room temperature on the counter. They'll be ready to enjoy soon!
---
Watch How To Make Shortbread Cookies (Video)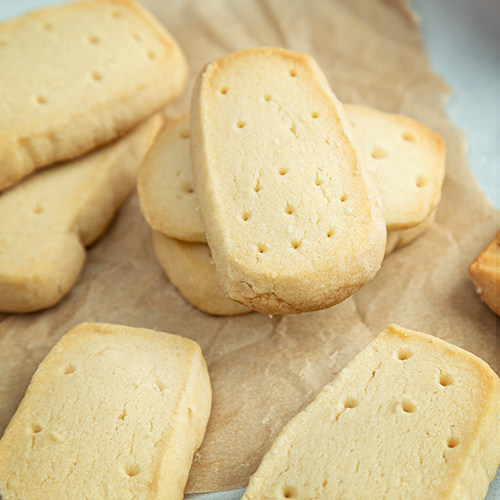 Shortbread Cookie Recipe
Shortbread cookies are a true classic and this shortbread cookie recipe is always a hit when you just need a simple cookie that is basic yet absolutely delicious!
Ingredients
1 1/4

sticks

unsalted butter

(room temperature)

1

tsp

vanilla extract

1

tsp

kosher salt

1/2

cup

powdered sugar

1 1/2

cups

all-purpose flour
Instructions
In a large mixing bowl, cream the butter and vanilla extract, then add the confectioners sugar and salt, scraping down the bowl as needed with a rubber spatula. Once fully combined, add in the flour and beat on low until fully combined.

Shape the dough into a rectangular brick (a dough cutter is useful in creating this) wrap in plastic and refrigerate for at least an hour. While the dough chills, preheat the oven to 350F and prepare baking sheets lined with parchment paper.

Remove the dough from the fridge and use a sharp knife to cut 1/2 inch thick slices. Place the slices onto a cookie sheet and use a skewer to create various indentation patterns on the top. Bake for about 5 minutes before rotating the baking sheet and baking an additional 5 minutes. Transfer to a wire rack to cool then serve.
Nutrition
Calories:
194
kcal
|
Carbohydrates:
20
g
|
Protein:
2
g
|
Fat:
12
g
|
Saturated Fat:
7
g
|
Polyunsaturated Fat:
1
g
|
Monounsaturated Fat:
3
g
|
Trans Fat:
0.5
g
|
Cholesterol:
30
mg
|
Sodium:
235
mg
|
Potassium:
24
mg
|
Fiber:
1
g
|
Sugar:
6
g
|
Vitamin A:
353
IU
|
Calcium:
6
mg
|
Iron:
1
mg
More shortbread recipes: